Are you interested in purchasing this product?
Order now
Highlighted functionality
Specifications
Ultra Stretch Signage, 32:9 Space-Fitting Wide Screen
The 88BH7F is the most suitable display for delivering new forms of advertising and multiplexed information in a 32:9 widescreen format that brings you a new experience, captivating customers' attention.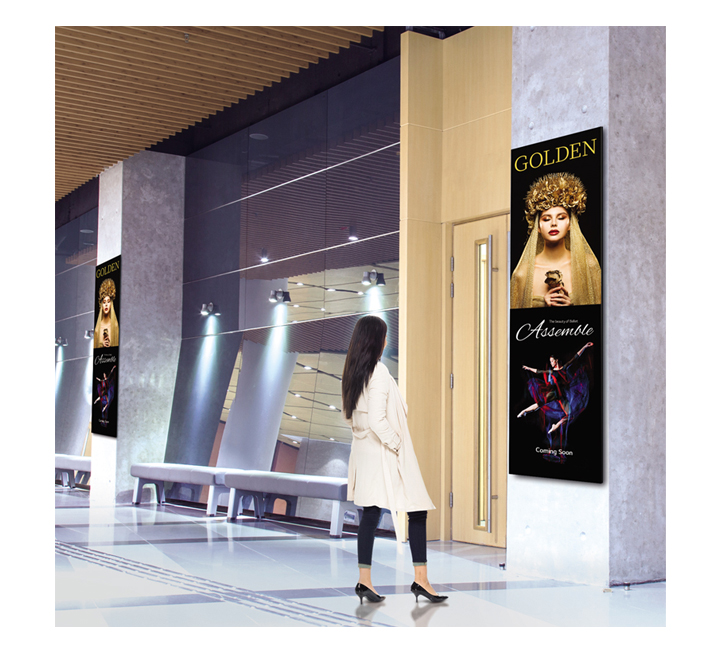 32:9 Extended Wide Format
It is a unique wide screen with 32:9 bar type which provides much more flexibility in playing content than the conventional display of 16:9 ratio.

Ultra HD Resolution (3,840 x 1,080)
Ultra HD resolution delivers an immersive viewing experience with vivid colors and clear images.

Flexibility for Content Management
The 88BH7F is able to organize multi content with video and text according to user's desired ratio. Also, it is optimized to show a vertical or horizontal object without truncation, providing lifelike viewing experiences to the customers.

Multi Screen Mode with 4PBP
The Picture-by-Picture (PBP) feature allows you to show multi content in one single display by up-to four parts. It is very useful and convenient to deliver various advertisements or pieces of information at the same time without calibration.

High Performance SoC with webOS
Built-in Quad Core SoC can execute several tasks at once while providing smooth content playback without the need for a media player. Also LG webOS platform enhances user convenience with intuitive GUI and simple app development tools.

Tiled Scene with DP Daisy Chain
The 88BH7F can show a tiled scene through its DP Daisy Chain*. This will be the best choice if you want to use a large screen, or provide visual impact to your customers in a different way.

LAN Daisy Chain Management
By using this daisy-chained network feature, you can execute commands such as controlling, monitoring and even updating firmware.

Real-Time Monitoring with Signage365Care
Easier and faster maintenance are available with our optional cloud service solution Signage365Care*. It remotely manages the status of displays in client workplaces for fault diagnosis and remote-control services, ensuring the stable operation of clients' businesses.
Display
Viewing angle, horizontal
Audio
Ports & interfaces
Ethernet LAN (RJ-45) ports
Weight & dimensions
Power
Power consumption (typical)
Operational conditions
Operating temperature (T-T)
Operating relative humidity (H-H)
Design
Packaging data
Computer system