LG 75TC3D P-Cap Touch Display
Are you interested in purchasing this product?
Order now
Highlighted functionality
Specifications
Experience Intuitive Touch and Writing
With the most advanced built-in touch technology, LG's TC3D/TR3D series enables precise screen touch responses and a sleek design.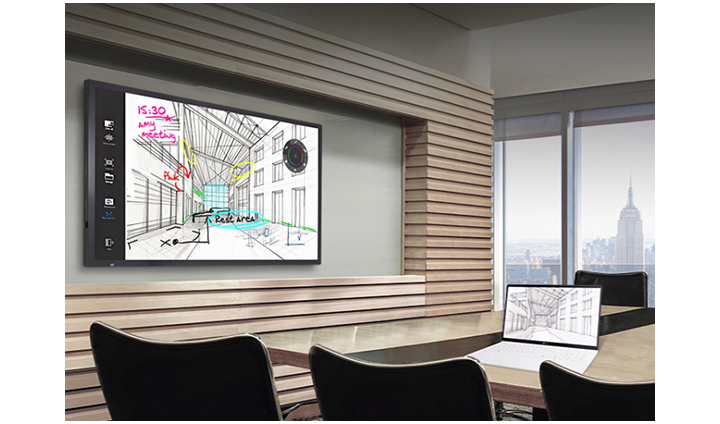 Floating Toor Bar
While using the writing function in IDB app mode, the user can place a floating toolbar anywhere on the screen by pressing and holding a touch point. Users can also drag it around using their fingertip or open and minimize it with a single tap, enabling comfortable and intuitive writing on the screen.

No Need For a PC
LG webOS 3.0+ is powered by high-performance SoC and can execute several tasks at the same time without the need for a separate media player or PC. Especially when combined with the IDB app, the LG IDB offers both interactive collaboration as well as an intuitive writing application, meaning additional licenses for IDB solution are not required.

Optimized Work-flow for Efficient Collaboration
Incredibly, a virtual meeting space can be created in the IDB, with participation access limited to users who enter a pin number generated by the IDB. Once the participants are in, the meeting session is ready to start.

Drawing Overlay on top of HDMI/DP and Save
HDMI or DP cables are still preferred among users when connecting their digital devices to IDB. LG IDB enables screen sharing using these cables. Shared screens are shown on a list on the IDB, so that a presenter can select the desired material to be displayed in full screen mode. Also, the presenter can write notes on the shared screen and save the notes with the screen, which reduces unnecessary time spent wrapping-up or announcing meeting minutes.

Annotate on Mirrored Screen and Save
The whole process mentioned above is also available using wireless connection. The only difference is that screens can be shared with an IDB via wireless connection. Whether using cables or wireless connection, all mirrored screens are shown as a list on the IDB, so the presenter is able to choose from among them. LG IDB will be key to building an environment optimized for both efficient collaboration and effective meetings.

Ensure the Best Picture Quality
LG IDB provides the best picture quality regardless of content type and viewer position. The UHD resolution allows users to view details without distortion, even when zooming in on the display. Moreover, the LG IPS panel has a wide viewing angle that delivers clear content, no matter where attendees are in the room.

Auto Signal/Touch Switching
LG has eliminated many elements that adversely affect user experience. The LG IDB is designed to connect signals from the side interface first, so that a display on notebooks connected to the side is immediately shown on the IDB screen and support touch functions. The original IDB display and the touch function are restored without any separate action when the notebook is disconnected from the side interface.

Editable Assistive Touch Menu
LG IDB users can run the desired function or change the setting from anywhere by softly pressing the screen to call up the Touch Menu. Moreover, it is possible to edit the menu to include preferred apps.

Touch On/Off Key
During a presentation, the touch function is not always required. In such cases, users can turn off the function just by tapping the "Assistive Menu" key. Users only need to tap this key again to turn the touch function back on. The key is in the lower section of the front of the TC3D series, allowing users to easily turn the touch function on/off.

Multi Screen with PBP/PIP
PBP (Picture-By-Picture) features multi screen in a single display with upto 2 input sources, thus maximizing usability of large display. In addition, PIP (Picture-In-Picture) supports playing both main screen and sub screen at the same time with various layouts, so users can arrange many different usage scenarios efficiently.

Eye Care Support
Reader mode decreases blue light, a cause of eye strain, by 70%, improving the comfort of those who are viewing the screen for a long time. Also the anti-glare coating on the screen reduces reflection for better visibility. And brightness is automatically adjusted according to ambient light of the surrounding to reduce eye strain.

Compatibility with Partner
Compatibility is critical in meeting room environments that work with multiple devices. Especially LG IDB is certified for compatibility with AV control systems, enabling seamless integration and automated control in meeting rooms. The LG IDB also allows video conferencing to be held reliably, as it supports connections with VCS solutions or UC (Unified Communication) solutions.
Technical details
Display
Viewing angle, horizontal
Audio
Number of built-in speakers
Ports & interfaces
Ethernet LAN (RJ-45) ports
Weight & dimensions
Power
Power consumption (typical)
Power consumption (standby)
Operational conditions
Operating temperature (T-T)
Operating relative humidity (H-H)
Networking
Ergonomics
Packaging content
Other features
Design
Computer system