LG 60UT640S Commercial Lite -4K
Are you interested in purchasing this product?
Order now
Highlighted functionality
Specifications
UHD Commercial TV with Basic Smart Function
The UT640S Series is specially designed for different business environments. Smart connectivity, simple user-friendly interface and UHD image quality, as well as AV Control systems and DPM (Display Power Management) provides compatibility.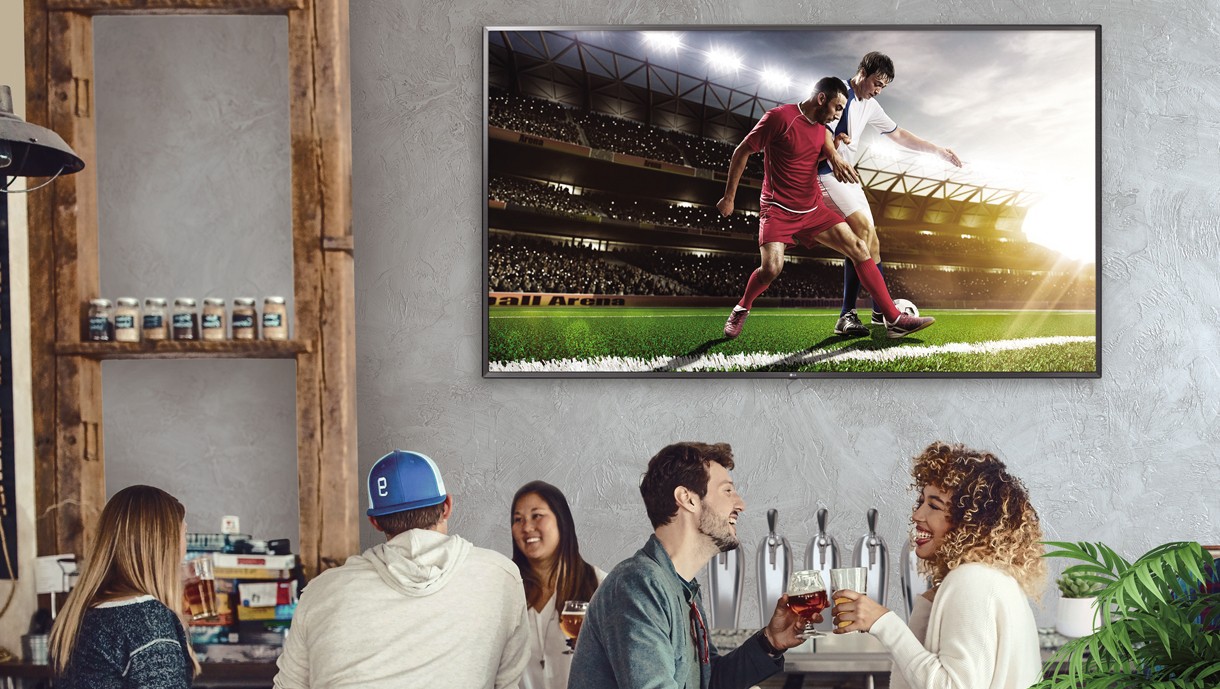 Simple Content Management Internal Content and Group Management
The Built-in Content and Group Management System allows you to edit and play content, plan playlists and groups, and control the Information screen via the remote control, mouse and mobile phone without using a separate computer or software. This makes content management easier and more user-friendly.

SuperSign Control
SuperSign Control, the basic control software, has the ability to manage up to 100 displays on a single account and server. Power, volume and timing can be adjusted remotely. Firmware updates are supported.

USB Data Copy
USB data cloning improves the efficiency of managing multiple displays for optimal operation without users having to create each display individually. After users copy data to a USB device on a single screen, this data can be easily distributed to other screens via a USB plug-in.

Real Time Remote Surveillance
Faults or errors can be easily managed with real-time remote maintenance. When an error occurs, notification can be sent over the SNMP (Simple Network Management Protocol) protocol

Single Line Power and Network
WOL (Wake-on-LAN) allows users to turn on screens by sending messages over the network. As only one cable is needed for power and network connection, installation and maintenance are significantly simplified.

HIGH VISIBILITY True Color, Immersive Tracking
The UT640S series increases the visibility of the content with its large size and immerses viewers. Offering a wide viewing angle range, the LG IPS panel makes it possible to see the content clearly regardless of the viewer's position. Each pixel in the IPS panel produces lifelike colors without distorting images.

Excellent picture quality and color
4K Resolution Enjoy Full HD content in 4K ULTRA HD quality optimized with Amplifier. The 4K resolution amplifier, which automatically upgrades Full HD content to ULTRA HD through a variety of resolution enhancement processes, making images appear crisp and clear in any viewing position.

BETTER AVAILABILITY Compatibility with AV Control Systems
The UT640S series is Crestron Connected® certified, proving its higher compatibility with professional AV controls. The seamless integration and automatic control * achieved in this way increases the efficiency of enterprise management.

DPM (Display Power Management)
You can now configure the DPM (Display Power Management) function to On. The TV enters DPM mode to manage power more efficiently when there is no signal.
HDMI input ports quantity
Display
Audio
Number of built-in speakers
Ports & interfaces
Ethernet LAN (RJ-45) ports
Weight & dimensions
Power
Power consumption (typical)
Power consumption (standby)
Design
Design
Digital signage flat panel
Performance
Packaging data
Computer system